Black Mountain Recreation Park
Harlan County Kentucky – June 2 & 3, 2007
By Steve Leslie, President FM2CD 4x4
<![if !vml]>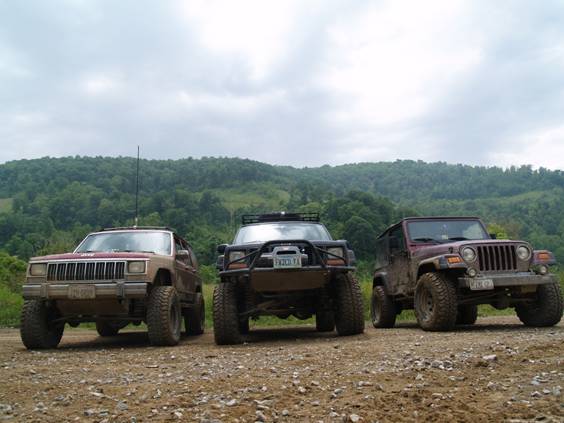 <![endif]>
This was a trip plagued by equipment problems. My Jeep was bordering on overheating the whole trip there. I also had a leaking power steering hose and ended up tearing out my exhaust system on one of the trails. Trevor had to turn around halfway to Kentucky and limp his TJ back home due to an ignition system problem. Jen had a 4WD shifter linkage problem (which we fixed on the trail) and Mark ended up with a loose frame side track bar bracket on the way home. It was also supposed to be a joint run with some of the Kentucky contingent from Jeep Horizons. However, they all ended up backing out for various reasons…so it ended up just three Jeeps in total.
The wheeling on the other hand was excellent. We had heard that the trails in Harlan County were "like Tellico without the crowds". That statement turned out to be true. There is something for everyone, from bunny trails to extreme stuff. Being 9 hours from home and without tow rigs (yet) to get the Jeeps home, we had to stay pretty much 'middle of the road' in our trail difficulty, but we still had a good time.
When we pulled in we were expecting to have to pay a nominal fee to enter. Surprisingly, there is no charge. The tradeoff is that, while there are some markings, a lot of the trails are not marked that well. There are maps available though, which makes it possible to navigate around without too much trouble. However, I would have no problem paying a few dollars to enter the park if it meant that the trails would be marked better. I should point out that this is not a complaint, it's just my opinion.
The park and surrounding town caters more to ATV's than trucks, but there are still a decent amount of trails that trucks can run. As stated before, we limited ourselves to intermediate trails, so we did not run everything that is capable of supporting trucks. Still, we did manage to play on a few rocks and run some challenging trails.
<![if !vml]>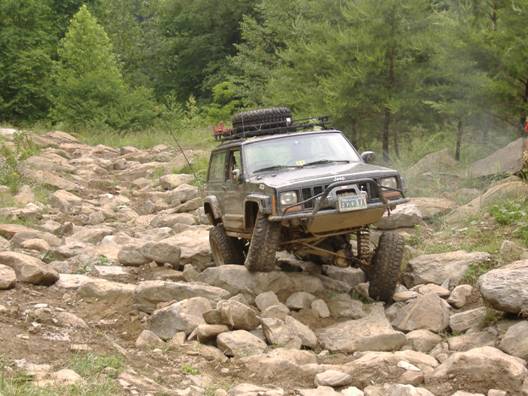 <![endif]>
The park is quite literally in the middle of nowhere. We couldn't even get signal from Verizon…but it was actually quite nice to completely 'unplug" and not have to deal with our cell phones, blackberry's, etc. for a change. There is a very small town with a few shops, gas, etc. There are also cabins you can rent, which is where we stayed. They are about 10 minutes from the trails and are a very cool place to hang out, grill some food and relax after a long day of wheeling.
All and all, we will be going back at some point in the near future. It was a good time, despite all the technical difficulties we experienced.
See ya'll on the trails,
Steve